we service all major brands of electronics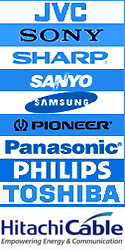 Trouble with your television, stereo, or home theater system? We specialize in providing in-home/on-site service and repair to the Northern Virginia area. We will diagnose your problem, repair your troubles, and have you up and running in no-time.
Schedule an Appointment Online Now!
Visit Our Retail Location
For over 25 years we've been providing the best audio and visual services in the area ... stop in and learn why!

| | |
| --- | --- |
| Projection screens, video and audio conferencing, low-cost maintenance — find out more. | |
SUPER-SIZE IT!
We specialize in large-screen repair and installation and provide the hands-on service than none of those deal-a-meal electronics warehouses can. From selection to delivery and installation... we've led the area in customer satisfaction since 1976.
Big Screens — Less Expensive Than You Think!
we accept:
©2002-2006 BurkeElectronics.com. All rights reserved.
How Do We Compare?
Consumer Checkbook lists us as one of the highest ranking TV and VCR repair firms in the Washington D.C. area – higher even than most of the big electronics store service centers.